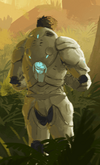 Welcome to the Official Destiny's Sword Wiki
Welcome to the Official Destiny's Sword Wiki
The guide for Destiny's Sword written and maintained by the players.
Please feel free to contribute by creating new articles or expanding on existing ones.
About Destiny's Sword
Destiny's Sword is a squad-based combat/strategy MMORPG that combines exciting, cinematic combat with unique social game mechanics for managing the physical and mental wellbeing of your
team
as their commander in an ongoing PvP faction
war
.